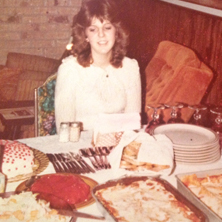 Food for Thought
My whole life has revolved around food and the many ways it intertwines into our lives. From cooking family meals growing up to running a bakery and my own catering business, working with food has been the single constant passion throughout my life. So much so that I started my own blog to share my food-focused adventures and memories...
Visit My Blog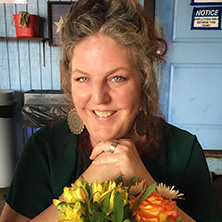 Behind the Scenes
Fast-Forward to January 2009 and I found myself as the production assistant to the on-air talent for the eight Austin-based episodes of TLC's Home Made Simple. Preparing the numerous steps of each recipe and shopping for television-quality ingredients was a great training ground for what was next...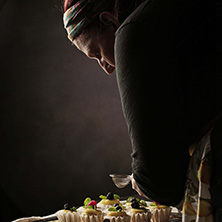 Dream Job
So that brings me to today. Little did I know that my experiences would lead to this. As a food stylist, I get to work with photographers and chefs to create finished work that best showcases their creations in print, digital and video. Whether it's photos or video, recipe development, cooking, baking, or preparing a hero, it's the perfect place for me.
See My Work
Food-Styling? It's What I Do
Yes! Food-styling is one of those things that you don't think about. Whether it's in a video or still photography, the way food looks when the final images are taken can be very different than when it went onto the plate. That's where I can help. Whether it is arranging the plate or cooking and baking to get that perfect "hero", I work with the client and photographer to understand the needs of each shot. From the props that help complete an image to the historical-accuracy of food in a time-based setting, a food-stylist is often the person responsible for the details that complete the story. And my goal is to have the viewer's mouth salivate just looking at the finished piece.



Portfolio
Please take a moment to review some of the work I've prepared...
Editorial
Savory
Wet
Burgers & Dogs
Sweet
Packaging
And More...
Contact Me
Do you have planned food-styling, prop-styling, or recipe testing or development needs? Please let me give you a quote...
"Kristina Wolter has a long relationship with food that goes far deeper than just making it look pretty. She devotes herself to knowing everything about the food she is working with, from its cultural roots and how it has changed over time, to how it responds to mixing and whipping, stirring and pouring."

Melissa Skorpil
"Kristina does outstanding work! She is a delight to work with, works incredibly hard, and combines incredible technical expertise with an artist's creativity in everything she does. We are looking forward to more projects with her and can recommend her highly."



Paul Morris
"It has been a pleasure working with Kristina Wolter as she has great attention to detail. We focus on creating our food and beverages while Kristina concentrates on making them look the best possible for photos. There is a mutual trust which makes each photo shoot successful because everyone understands and executes their role."

Joshua Camacho

Vice President, Serranos Tex-Mex